Through various affiliate programs, we earn a commission from qualifying purchases when you click affiliate links. This is at no extra charge to you and offsets our cost of creating this content.
16 gorgeous Christmas party dresses for you to choose from as your work or family holiday party outfit for 2021. Turn heads and look stunning this holiday season with these top picks from our fashion editor. Our office Christmas party dresses are cute enough to work at your family parties too!
Shopping for the holidays can be stressful for us all. Get one thing off your list by finding your Christmas and holiday party outfit from our best picks of the 2021 season. These fresh styles are guaranteed to make you the envy of any festive gathering. Find exactly what to wear for your company or family Christmas party.
What To Wear To A Christmas Party For The 2021 Holidays? Many Choices, Little Time
Every holiday season, if you are the person who feels stressed about what to wear to a Christmas party, these 16 elegant and professional dresses will set your mind free. Getting the right Christmas dress can be difficult. There are far too many choices to sort through. Plus, is it worth the time and money for something you may wear just once at Christmas?
Christmas Party Dresses: The 16 Hottest 2021 Holiday Styles
We understand your pain. That's why we've made it easy with 16 of the most stunning holiday party outfits that will make you stand out, but won't break the bank. And the good news is they can be used at other times of the year too.
Bring on the ooh-la-la's and the ho-ho-ho's with these delectable party dresses we have carefully picked out for you to look your best in 2021.
By Kay Unger
We love this magnificent midi cocktail dress from Kay Unger. The Vibrant Green color of this dress will say "look at me!" every time you make an entrance. And the bold midi style and front pleats further set it apart from everything else we've seen this year.
The weather might be cold outside. But there is a strong chance that flurries of compliments will come your way in this stunning green Christmas dress ($288).
The fabulous look of this dress and classic Christmas look-at-me green color make this our top pick for 2021. And what's better is that it is also available in another wonderful holiday color — Rose Gold.
By Karen Kane
A gorgeous black lace dress from Karen Kane comes in at number two on our list. The beautiful floral design creates that safe, yet flirty silhouette that turns heads at an office party. This is one of the best black Christmas party dresses we could find in 2021.
The fabulous look of this dress and the price ($118) make this our highly recommended pick for an office Christmas party for 2021.
By Dress The Population
If you want to make a bold statement with your holiday party dress, this hot rouge outfit will do just that. It is one of our top picks because it says chic and is still very much mid-priced ($148).
This could be your perfect Christmas color and dress if you feel like going with rouge-red dress this season. And letting your shoulders do the talking.
By Speechless
A very stylish cocktail dress that can work for any occasion of the year. This dress will make for an absolutely stunning outfit at your office Christmas party.
The wine rose hues on the top blend into gold at the bottom and this makes it our pick as an outstanding holiday party outfit color theme for this season. You won't find a party outfit this good for this low a price ($69).
By French Connection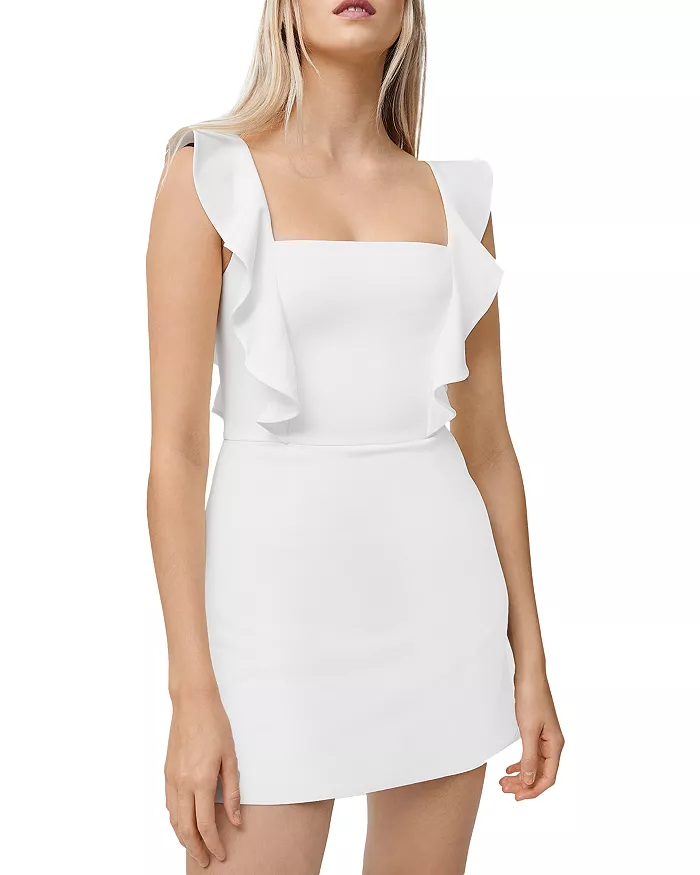 A white stunner of a Christmas party dress is what this is. The partly bare-shoulder look that skims your figure will leave your fellow partygoers with their mouths agape. But no worries, let this fitted mini dress do all the talking for you at your holiday party ($148).
Our pick is the Summer White but also looks equally delightful and sultry in Black, Laurel, Duchess Blue or True Red.
By Alex Evenings
This imperial blue embellished velvet dress is regal and fit for royalty. Blue is always a safe color for the holidays, but this adds a twist with jewel-studded embellishment on the neck. While the see-through bell sleeves make it stand our even more. This is our top pick if you are looking for a classy evening holiday party dress ($169).
By Adrianna Papell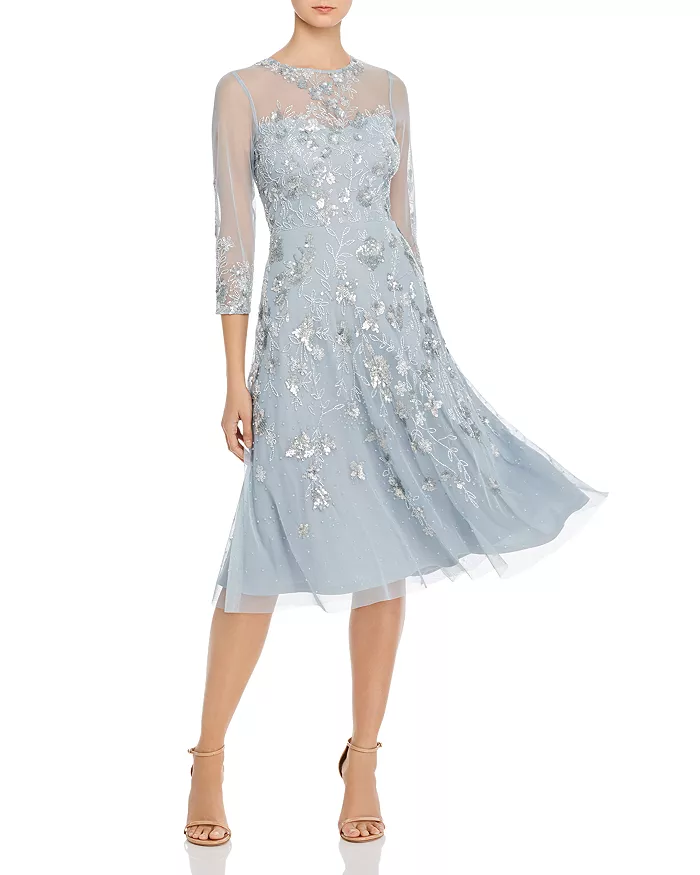 An absolutely stunning blue floral dress from Adrianna Papell ($279). The semi-sheer yokes and sleeves will deftly convey a sexy look. Extremely versatile dress that can be worn for an afternoon, outdoor Christmas party. And, come to think of it, looks great at night too.
Advertisement
By BCBGMAXAZRIA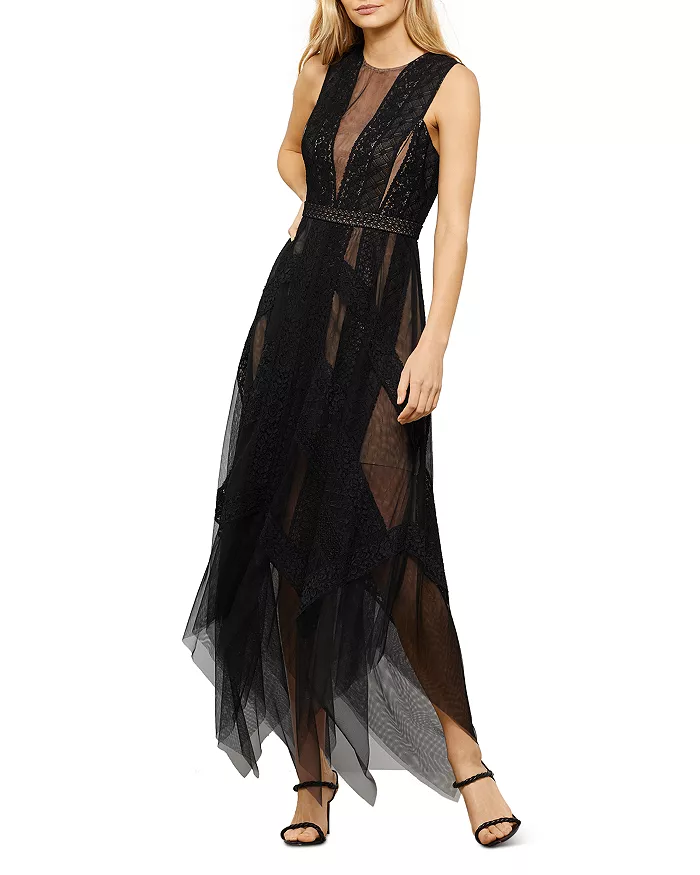 The unique black lace design with an illusion V-neck and back will completely blow people away and make you stand out this holiday season. One of our higher-priced picks ($398). But BCBG Max Azaria has quality and unique elegance that is worth paying for. And this black lace cocktail dress will make for an exquisite look at any party, even after the holidays.
By Calvin Klein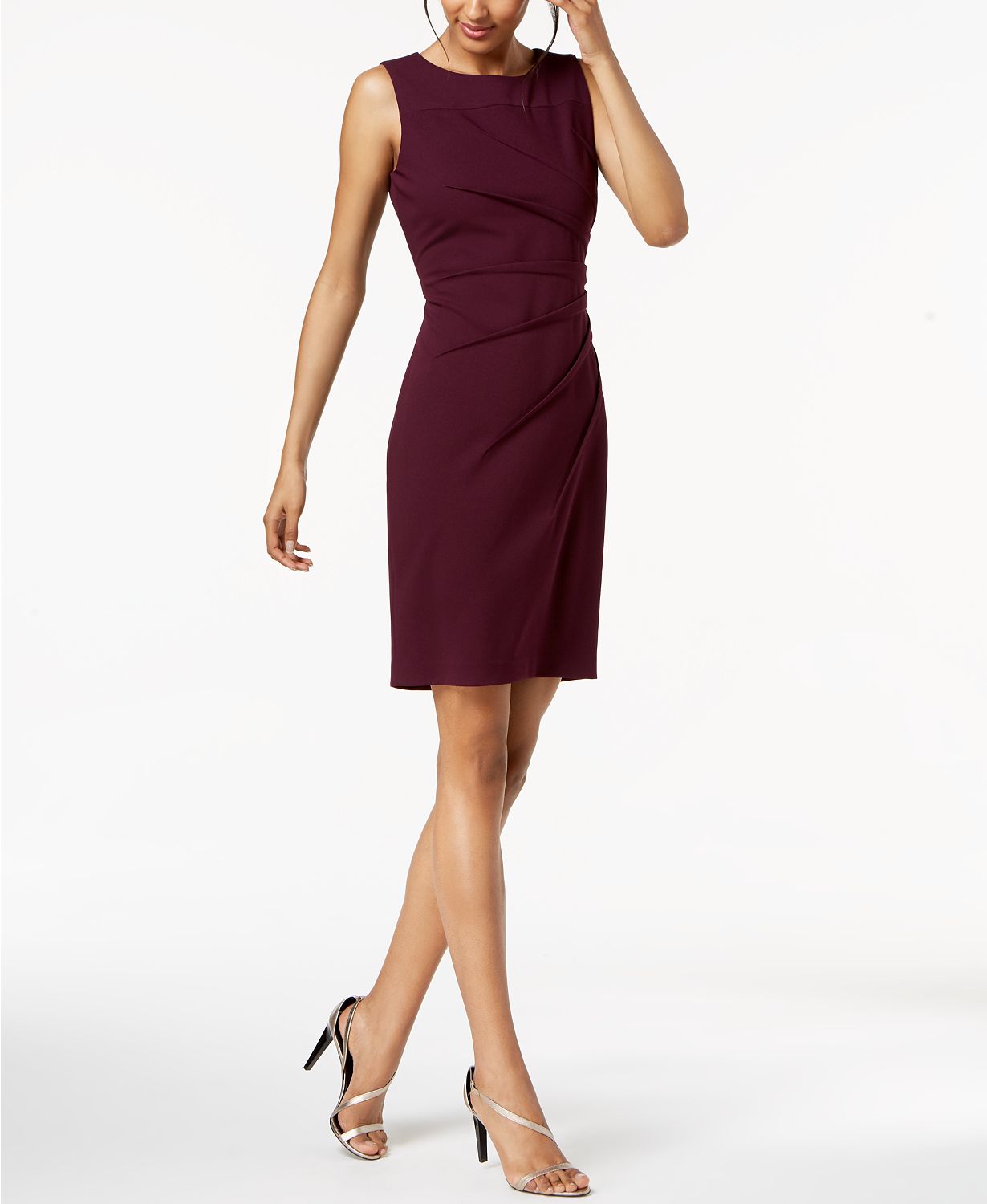 This sheath dress from one of our favorite brands is a stunning holiday dress. We searched hard to find something around $90 that looks and feels sophisticated enough to pass for a higher-end dress. And still can be used during other parts of the year.
A cute Christmas party dress in a royal aubergine color. No better color for the yuletide spirit but it also comes in a bright blue, green and indigo. This is our top pick for a holiday party outfit under $100 because of the versatile colors and the amazing, yet elegant, sunburst design in the front.
Advertisement
By Dress The Population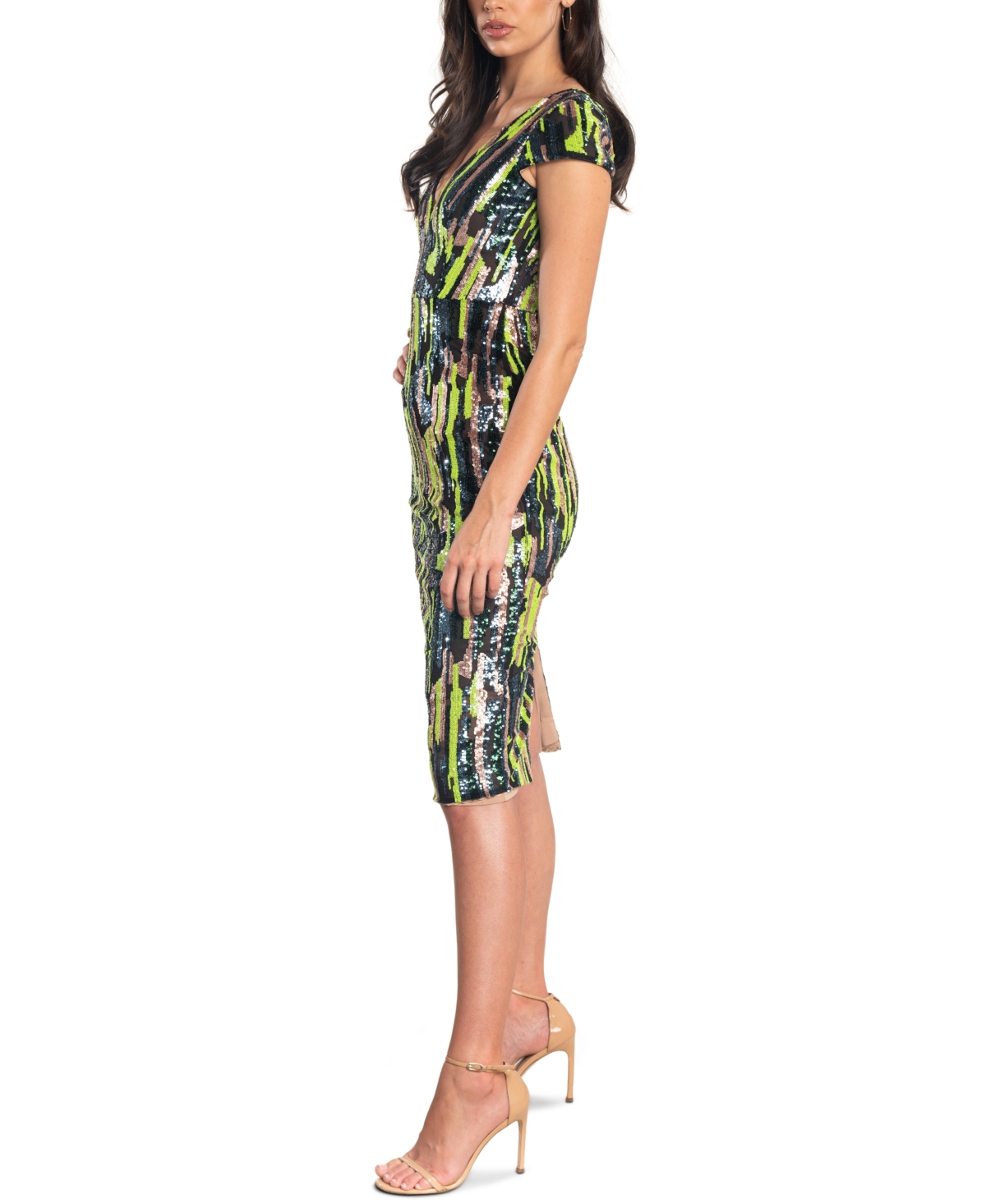 A high-energy sequin dress in a classic, trend-forward cut and style. This greens in the design will brighten up your Christmas party look. Complete with cap sleeves and a body-shaping fit, this dress can easily be used at any time of the year ($278).
By Aidan Mattox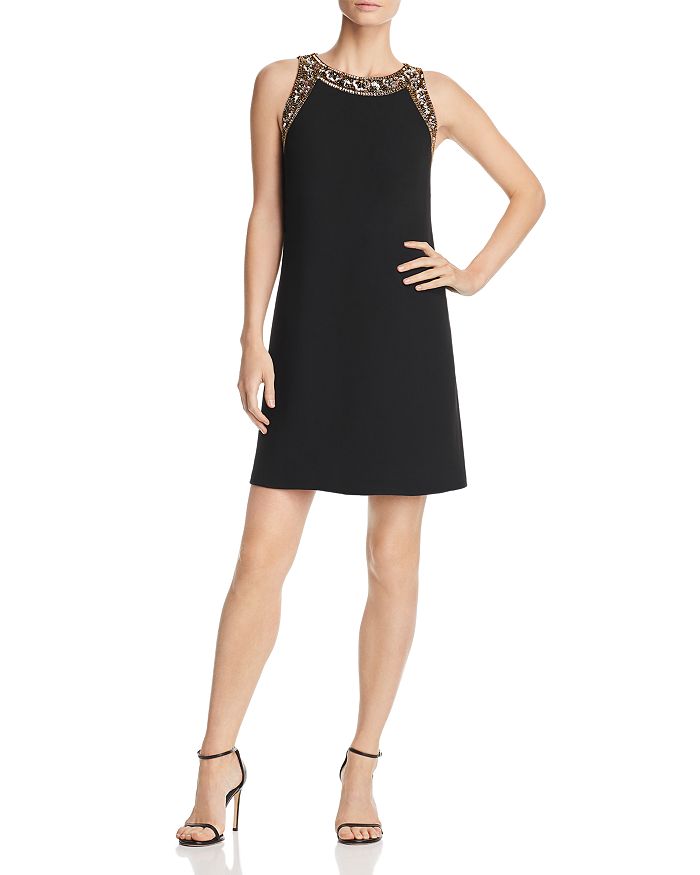 This is a sexy black dress from Aidan Mattox that makes for a stunning Christmas party outfit. Chic, effortless perfection in a bead and sequin embellishment with a round neck and sleeveless look.
Modest on the neckline but high on the knees gives you just that little bit of oomph, if you so dare. The embellishments on the arms and neck are impeccable and complete this gorgeous party outfit ($295).
By Alex Evenings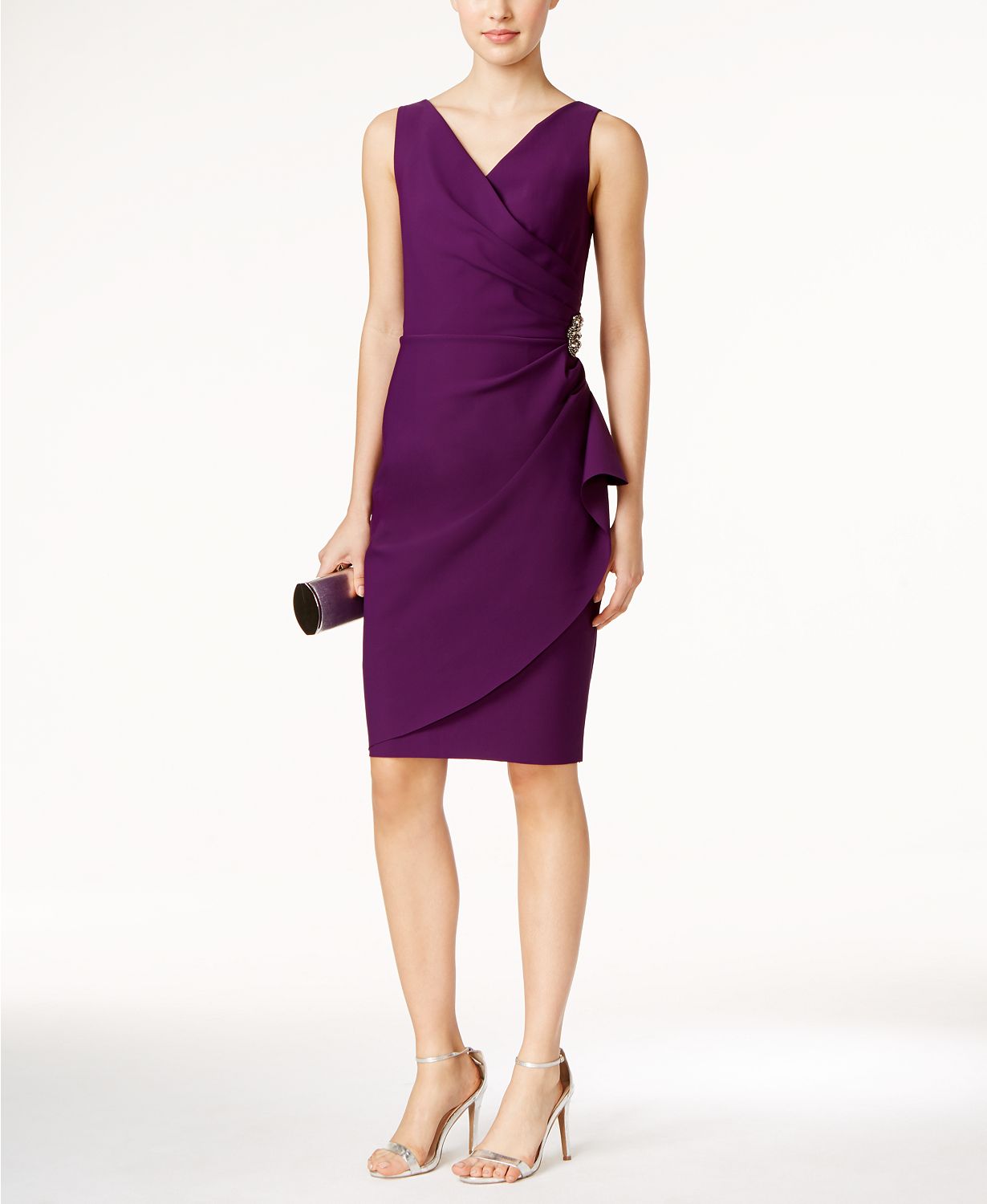 A graceful side-ruched dress in an amazing Christmas summer plum color. Sure to get attention and full of comfort and style. A truly classy Christmas party dress for a company or office gathering.
Also available in other colors like wine, dark teal, navy, charcoal and black. The wine color is also a magnificent look for a Christmas formal outing ($215).
By Maggy London
This vintage cocktail dress from Maggy London makes for a classic look at your office holiday party. The cloth is a lovely stretch material that is fitted throughout which will sit nicely on most body types. A comfortable yet stylish dress that can be used at many other events year round ($148).
By Aidan Mattox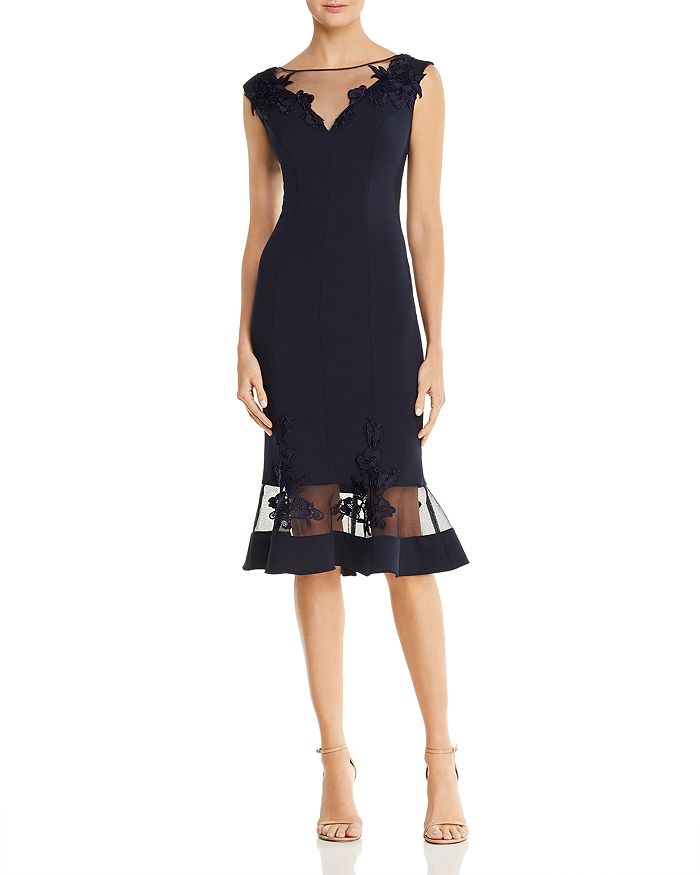 A figure-hugging dark blue dress. Exquisite floral designs on this stunning dress make it stand out at any festive party.
This Christmas party dress will definitely get used during other parts of the year for other formal occasions ($275).
By Alex Evenings
A sweet neck-hugging cocktail sheath dress. Absolutely no compromise on elegance and style if you go with this beautiful blue color. We like this for its simple design with a modern feel on the neck that nicely frames your face and shoulders. A cute Christmas party outfit with a festive color to get you noticed as soon as you make your entrance ($225).
By Adrianna Papell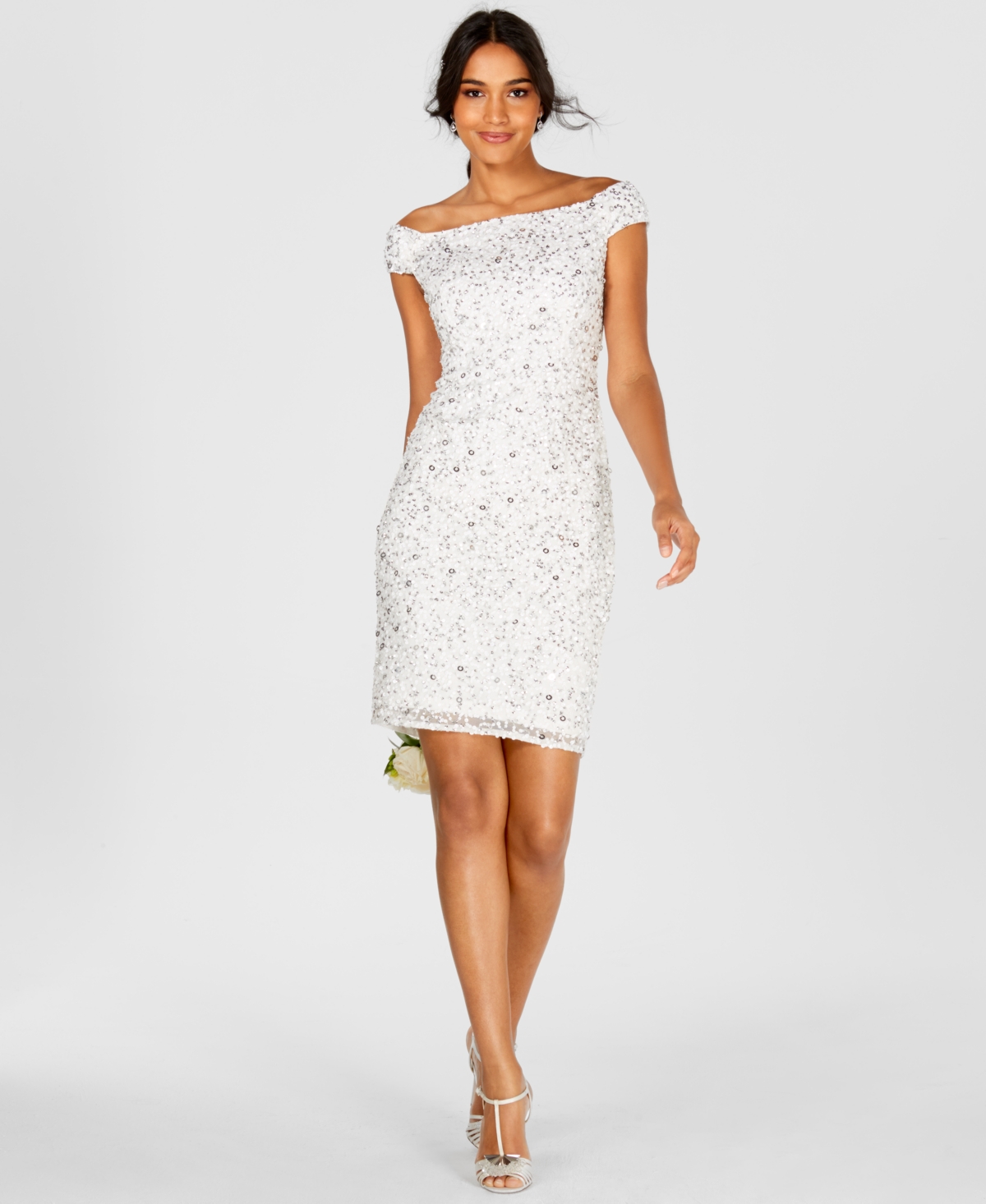 Extremely sensual silver/white dress that reminds us of a time when style could be conveyed with one glance. Works great as a Christmas party dress and for anything else worth dressing up for during the year. A classy holiday outfit and one of our highly recommended office Christmas party dresses ($199).
Christmas Party Dresses That Work For The Office
Another factor that went into choosing these amazing holiday party dresses is how versatile they can be.
Many of the dresses in this list will work all year round for other office or company outings. Some are flexible enough to be worn for the regular workday or interview. A good idea if you want to stretch your Christmas purchase and purpose it for other formal occasions. Why not put your stunning self out there in a cute dress any day of the year!
Holiday and Christmas Party Dresses For A Special Look In 2021
Our Christmas party dresses for 2021 were chosen to make a special person like you feel and look extraordinary. And at Christmas time, we all deserve the best. We chose dresses that flatter any body-type. If you are going to spend money on a new holiday party outfit, it has to make you feel good and look spectacular.
We hope you liked our picks because we spent time to get them just right for your special event. Get your camera ready, you are going to need it. And most important of all, have a wonderful time with your friends, colleagues and family at your Christmas party.
Merry Christmas and Happy Holidays from all of us at our magazine!
Nicolette Fernandes, Ph.D. is Master Influencer Magazine's beauty and fashion executive editor. She advises clients on wardrobe construction and styles.
This post contains affiliate links. When you click the links and make a purchase, at no extra charges to you, we earn a commission that helps us cover the costs of creating this content.
---
Advertised Business Content
As an Amazon Associate we earn from qualifying purchases.
Amazon and the Amazon logo are trademarks of Amazon.com, Inc, or its affiliates.